Revent Electric Model 703U Multi Rack Oven
Revent Electric Model 703U Multi Rack Oven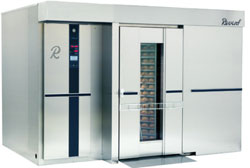 List Price:
$90,100.00
Your Price:
$

74,200.00

*

USD

You Save:
$15,900.00
Item Number:

10467

Manufacturer:
Revent
Model No.:

703U

Availability:
-Ships Within 4-6 Weeks
*Price Does NOT include cost of crating, shipping, delivery or installation.
Revent Model 703U Multi Rack Oven
Standard Description:
703 Oven Body- 208/220V/3 ph/60 Hz

 

G-IAC Panel with 100 Programs, USB Interface etc

Rotating Platform (4 single or 2 double rack capacity)

600 Series Deep Canopy

Auto Damper

Steam System - Normal Duty

TCC Air Distribution
Oven Options
Power Options

Electric Heated 208/220V

Electric Heated 480V

50 Hz Electrica

Burner Options

Other Options

Prison Security Package

Pass Through Option
Other Information
Maximum Heating Capacity Electric Oven: 275 amps at 208V

Approximate Shipping eight: 7,095 lbs skidded

FOB: Piscataway, NJ 08854: Shipped on (3) skids and (1) crate

Minimum intake opening 49.2" X 93.7" without skid. Minimum tilt up height 137.8" without motor.
---
The 703 oven is engineered
for optimal bottom heat to
provide superior oven-jump
and maximum lift.
Featuring Revent baking
technology systems:

Revent TCC System
(Total Convection Control)

Revent HVS System
(High Volume Steam)

Revent LID System
(Layered Insulation Design)