Federal Industries Counter Top Merchandisers Non-Refrigerated - Self-Serve 4'
Federal Industries Counter Top Merchandisers Non-Refrigerated - Self-Serve 4'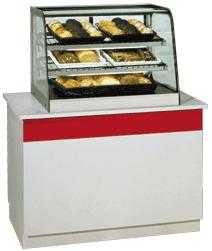 List Price:
$19,272.00
Your Price:
$

10,707.00

*

USD

You Save:
$8,565.00
Item Number:

10880

Manufacturer:
Federal
Model No.:

CD4828SS
*Price Does NOT include cost of crating, shipping, delivery or installation.
COUNTER TOP MERCHANDISERS 4'
NON-REFRIGERATED– SELF-SERVE CASES
Model

Dimensions
L   W   H

Aprox Shipping
Weight (lbs)

Electrical

120/60/1

CD4828SS

47" x 29.7" x 25.12"

351

1.5 AMPS
- Due to continuing engineering improvements, specifications are subject to change without notice.
The Signature Series counter top self-serve merchandiser combines attractive curved glass styling and merchandising flexibility. Designed for continuous case line-ups. Cases are available in lengths of 3' and 4'.
STANDARD FEATURES
Curved glass styling.

Three hinged lift-up front doors allow for customer access.

Adjustable black wire shelves. Shelves are adjustable up and down and can also be tilted in two positions. Two tiers.

Tempered end glass.

Shielded top light and shelf lights.

Removable sliding rear doors, shelf lights, shelf supports, and shelves.

Scratch-resistant black display deck.

Easily accessible light switch.

Black painted metal and stainless construction. Black trim.

Designed for continuous line-ups.

Cord and plug (six foot).

UL Safety and UL Sanitation Listed.
OPTIONAL ACCESSORIES:
* Glass Shelves
* Reflective Ends
* Reflective Rear Doors
* Pedestal With Wrapping Board (To Match Refrigerated Rear Mount Unit)