BE&SCO Model 9A-12 Stand Alone MidWedge (120V)
BE&SCO Model 9A-12 Stand Alone MidWedge (120V)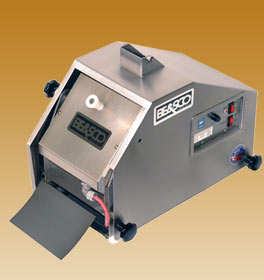 Your Price:
$

10,080.00

*

USD

Item Number:

12205

Manufacturer:
BESCO
Model No.:

9A-12
*Price Does NOT include cost of crating, shipping, delivery or installation.
BE&SCO Stand Alone MidWedge
Model 9A
The Stand Alone MidWedge is a combination Wedge Press and Mini Wedge. A fully electric patented flour tortilla press. It takes up only two square feet of counter space and can produce up to 900 tortillas per hour from 4" to 7" in diameter. Designed for countertop use, or available with a special floor stand.

Features:        
Size: : 16.75" H x 16.53" W x 20.50" L

Footprint: 25.75" x 16.53"

Productivity: Can produce up to 900 Tortillas from per hour from 4" to 7" in Diameter.

Power: 120V

Total Power Usage: 1800 Watts

Shipping Weight: Approx. 70 lbs.