Alba-Teknoservice Model BABY2800 Automatic Croissant Machine
Alba-Teknoservice Model BABY2800 Automatic Croissant Machine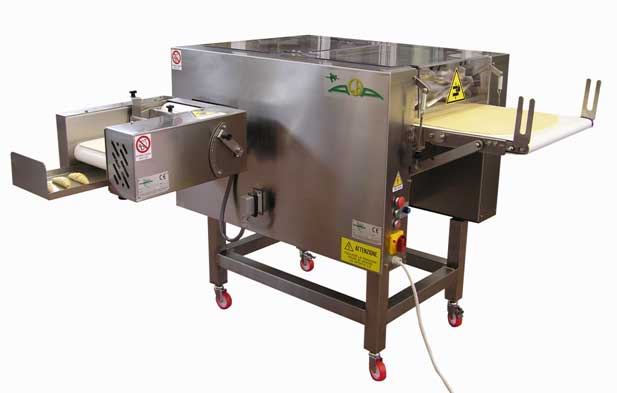 Your Price:
$

0.00

*

USD

Item Number:

13934

Manufacturer:
Alba-Teknoservice
Model No.:

BABY2800
*Price Does NOT include cost of crating, shipping, delivery or installation.
Alba-Teknoservice machines from Bakery Services of North America, Inc.
Automatic Croissant Machine
Model BABY2800
Is not enough space and time your enemy?  With just one action you can win the war against space and time!
You can place a BABY 2800 croissant unit upon a small trolley in order to speed up production.  It can produce 2.800 croissants per hour and cut different shapes and sizes of pastry.  The unit is equipped with an in-feed belt, orientation unit and curling unit.
SPECIFICATIONS:

In-feed Cutting Conveyor Belt
    - Conveyor belt in polyurethane resin in conformity with the FDA standards
    - Belt width: 500 mm
    - The belt is equipped with scrapers

Double Rotary Cutting Station
    - Cutting in two sections
    - Easy change of the roller

Scrap Removal Boxes

Retracting Spacer Conveyor Belt
   - Conveyor belts in polyurethane resin in conformity the FDA standards
    - Belt width: 440 mm
    - Centering control
    - Retraction by electronic control

Universal Curling Unit For Plain Croissant (Lo Speed)
   - In-feed belts
    - Gauging roller manual lifting with reading indicator
    - Upper and lower curling control

 
Due to the Euro we will be quoting these units on a needed basis.  To receive a quote with pricing please click the "Get Quote" button now.