Tach-It Model 3567 Ultra Tight Semi-Automatic Twist Tie Machine
Tach-It Model 3567 Ultra Tight Semi-Automatic Twist Tie Machine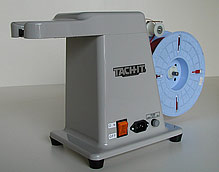 List Price:
$1,995.00
Your Price:
$

1,778.00

*

USD

You Save:
$217.00
Item Number:

14176

Manufacturer:
Tach-It
Model No.:

3567
*Price Does NOT include cost of crating, shipping, delivery or installation.
Tach-It Ultra Tight Semi-Automatic Twist Tie Machine
Model 3567
THE MOST TECHNOLOGICALLY ADVANCED TWIST TIE MACHINE IN THE WORLD IS THE TACH-IT MODEL #3567. THIS STATE OF THE ART MACHINE DOES NOT UTILIZE A RECIPROCATING ARM, ELIMINATING JAMS AND ALLOWS FOR AN EASY STRAIGHT LINE RIBBON FEED. SIMPLE TO USE AND REQUIRING NO TOOLS FOR SPOOL CHANGEOVERS, THE MODEL #3567 IS CONSTRUCTED OF ALL STEEL COMPONENTS FOR LONG LIFE, HAS A ½" TYING CAPACITY, USES AN ECONOMICAL 3" PIECE OF TWIST TIE MATERIAL PER CLOSURE (THAT IS 25% LESS THAN COMPETITIVE MACHINES), AND USES ALL STANDARD, DECORATIVE, AND TACH-IT'S EXCLUSIVE POLYCORE NON-METALLIC TWIST TIE MATERIALS.

CAPABLE OF TYING UP TO 50 BAGS PER MINUTE, THE SUPERIOR DESIGN AND COMPACT SIZE OF THIS TWISTER HAS MADE IT PERFECT FOR ALL APPLICATIONS INCLUDING; BAKERY, INDUSTRIAL, WIRE HARNESSING AND FOOD SERVICE.

DIMENSIONS: LENGTH-21", WIDTH-7", HEIGHT-12"
WEIGHT: 16 LBS
TYING CAPACITY: 0" TO 1/2" DIAMETER
OPERATING SPEED: 50 CYCLES PER MINUTE
POWER: 110 VOLT
OPTION:
-#17-2000 POLYCORE NON-METALLIC TWIST TIE RIBBON. 
   - 2000 foot spools of all plastic twist tie ribbon.  5/32" parallel wound paper/plastic laminated twist tie ribbon. 
   - Applicable for microwaves, metal detectors, autoclave, sterilization and food and medical packaging.
   - Colors (Plastic Side): White, Red, Blue, Yellow, Orange, Brown and Green.  Paper side is always white.
   - Packaging: 12 spools per carton.