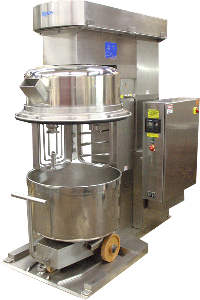 Your Price:
$

154,777.00

*

USD

Item Number:

16665

Manufacturer:
Unknown
Model No.:

T-750
*Price Does NOT include cost of crating, shipping, delivery or installation.
T-750 Planetary Mixer
Features:
(1) 370 qt. Polished stainless steel large removable bowl

(2) Stainless steel "simple style" implements of your choice

(1) Removable integral bowl scraper

Complete with all stainless steel exterior structure

Heavy duty hydraulic system w/ manual hand pump override

Oil bath gear drive with oil pump

Fully programmable mixing using Allen=Bradley PLC and Panel View

High efficiency fan cooled frequency inverter duty main motor drive

Mixer will be supplied with all program updates

Main power voltage to be 460 Volt - 3 Phase - 60 Hertz
Options:

Bulk Liquid Metering Package - Each meter package includes one (1) 3/4" diameter electric solenoid type valve and meter, which are integrated into the PLC of the mixer.  This package is pre-piped and mounted with all s/s pipe and hardware.  Can be purchased as one (1) meter of in multiples for oil, water, egg or any other liquids.

Mixer Bowl Model T-356.5 - For use with the Topos Model T-750.5 planetary mixer, includes s/s bowl "truck", bowl steering handle and two (2) bowl lifting tubes.

S/S Drip Pan Assembly - On a "Swing Away" arm and post assembly, to catch batter drippings from falling on to the base plate of mixer.  Includes electrical interlock to lock out the mixer control panel for operator safety.  This is a bolt-on option and can be added to existing machines.





Additional Implements - Implement Model 010, 020, 025, 030 & 050

Implement-060 - "Complex Style" Whip, heavy duty, s/s, center posted whips that are ideal for use with slack batters, fillings, whipped toppings, meringue and similar products.

S/S Bowl Tilter - Powered by your plant water pressure, floor mounted, to be used to tilt over the T-750 mixer bowls to just over 90 degrees for ease of cleaning (pressure washing.)  No electrical, pneumatic or hydraulic connections are required.  This is a safe, sanitary and simple design.

S/S Bowl Drains - With a threaded s/s cap.  The s/s cap has a welded link, s/s retaining chain and a UHMW plastic plug insert to create a flush fit to the bottom inside of the bowl.

S/S Implement Cart - Mobile cart with four (4) swivel casters included.  Designed to hold four (4) implements for ease of transport, sanitation and storage of your mixing implements.  All sanitary welded, boxed tubing type construction.




The mixer can be ordered with your choice of front or side mounted infeed chutes.  The base price of the mixer includes the Standard Open Infeed Chute shown in Picture 1.  The other infeed chutes are available at an additional cost.  Picture 2 shows Small Infeed Chute w/ Hinged Lid.  Picture 3 Medium Infeed Chute w/ Hinged Lid.  Picture 4 Large Infeed Chute without Lid.