LifTILTruk Model "C" Bowl Lift
LifTILTruk Model "C" Bowl Lift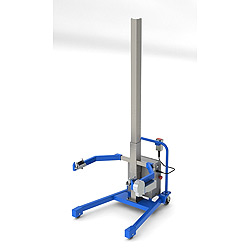 Your Price:
$

16,706.00

*

USD

Item Number:

19780

Manufacturer:
Savage Mfg.
Model No.:

0712 SS
*Price Does NOT include cost of crating, shipping, delivery or installation.
LifTILTruk Model "C" Bowl Lift
·         The bowl is lifted by mean of a hydraulic pump and piston. Our hydraulic system is rated to
1,000 Lb / 450 Kg and includes a chain assist that is rated 7X over the lifting capacity.
·         Our hydraulic system is "fused", which means that should hydraulic pressure be lost for any
reason, including rapid loss of fluid, the bowl will not fall. Rather, the fuse will maintain
pressure and slowly lower the bowl.
·         The 12 Volt DC battery that powers the hydraulic pump and tilt motor is a sealed unit of a
marine type rated for 185 reserve minutes. Power cord free for lifting and pouring.
·         The on-board 110 Volt AC battery charger is significantly "over rated" for application for
trouble free performance. 220 Volt 50 Hz units available for operation outside of North America.
Just plug into standard electrical outlet to recharge when unit not in use.
·         The casters are 5" diameter, 2 fixed in front and 2 swivel in rear. All casters are rated for 900
lbs each.
·         The unit will pick up Savage kettles directly and most manufacturers' mixing bowls and
containers adapted with non-interfering straps. Containers adapted with proper handles
automatically lock into the LifTILTruk arms for fail-safe tilting.
Machine Height
Column Height: 100"
Machine Height: 106"
Minimum pick up off floor: 14"
Base Dimensions
Length: 48"
Width: 29"
Height: 6"