UNTECH Crate Washing Machine UKY 300
UNTECH Crate Washing Machine UKY 300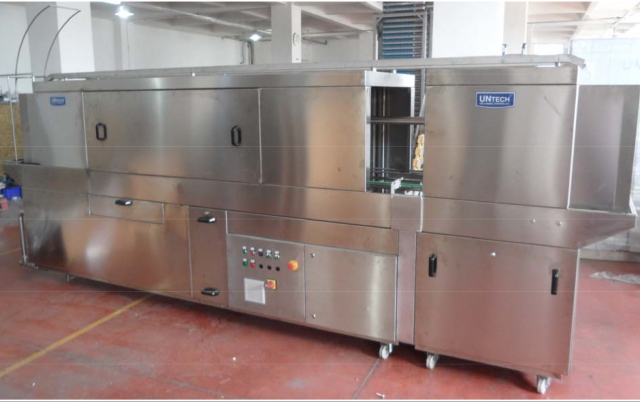 Your Price:
$

32,450.00

*

USD

Item Number:

N-EPNW-20452

Manufacturer:
Unknown
Model No.:

UKY 300
*Price Does NOT include cost of crating, shipping, delivery or installation.
UNTECH CRATE WASHING MACHINE UKY 300
Our tunnel type crate washers are completely made of high quality stainless steel material. With the help of stainless steel conveyor chain and side guide's dirty crates are traveling in position during the washing process. High pressure water nozzles which are located in the washing tunnel are ensures that every part of crates are washed homogeneously. It is also possible to wash the crates with detergent which dosing is by a detergent pump. After washing process creates are passing to the rinse section and if requested crates can be dried after rinsing.
UKY 300
UKY 300 washing machine has washing, rinsing and air blowing unit in a compact design. Machine capacity can go up to 300 crates per hour. One man operation, detergent dosing pump and disinfectant dosing pump is available options for this washing machine.
Tunnel Infeed Dimensions:
Max Width: 24"
Max Height: 12"
WASHING SECTION
Length: 63"
Washing Pump: 4kW (3-4bar – 700 l/Min)
Water Tank: 200 Ltr
Water Heating: 3 x 6 kW Electrical or W/ Steam (1 Bar)
Washing Water Temperature: 140°F – 160°F
Water Spraying Nozzle: Changeable Adjustable Angle, PP
Filter Type: Changeable, Stainless Steel Filter (Holes 1.5mm)
Speed Control: By means of an inverter
Detergent Dosing: With dosing pump
RINSING SECTION
Length: 24"
Rinsing Water: W/ Hot Water supplied by Factory
Recommended Rinsing Temp: 160°F
Rinsing Nozzles: Stainless Steel  .03mm
Blower Fan Power: 2.2kW – 3.500m3/H
Machine Dimensions: 110"L x 37"W x 55"H
Machine W/ blower: 150"L x 37"W x 55"H