Bloemhof Mini-Vert Airbagger
Bloemhof Mini-Vert Airbagger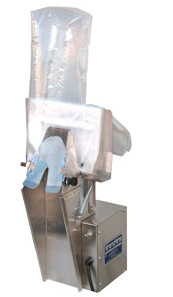 Your Price:
$

3,011.00

*

USD

Item Number:

22870

Manufacturer:
Bloemhof
Model No.:

MV-1170
*Price Does NOT include cost of crating, shipping, delivery or installation.
Cut your bagging costs in half and finish three times faster than manual bagging!Bagging sliced bread is a thankless job. The last step of the bread making process is always rushed by the delays in baking and cooling, staff pulled away to serve customers and trucks waiting for bread to be loaded. Mini-Vert Airbagger is the perfect slicer companion and mounts easily to your slicer. The vertical design prevents bread slices from shifting and the patented wings eliminate bag tearing. The next bag inflates instantly and holds it ready for your next loading.You may mount the bagger to most bread slicers using the optional adjustable mounting bracket. This allows you to position the bagger conveniently for the operator and swing it away when cleaning or servicing the slicer. Table brackets are also available.You can bag up to 1,200 products per hour but the slicer becomes the slowest point. Most gravity feed slicers can slice about 400 to 500 loaves per hour. Our customers tell us that their staff manually bagging can only bag 100 to 150 loaves per hour and see immediate improvements to the full slicer capacity. Depending on the volume of bread that you do, our baggers can pay for themselves in a few weeks to a few months. 
BLOEMHOF Mini-Vert Bagger Specifications
MODEL:
M 5" Wide chute, 9" minimum bag width
M7 7" Wide chute, 10 1/2" minimum bag width
Bags: Wicketed polyethylene and polypropylene bakery bags, 5" to 16" wide and up to 32" long when measured flat Mounting: Adjustable mounting bracket Table mounting bracket
Motor: 90 cfm air blower 1.0 Amps 1 Ph / 115V / 60Hz Shipping
Weight: Approximately 34 lbs.