Rondo ASTec.D Sheeting Line 2013'
Previously Owned Equipment
Rondo ASTec.D Sheeting Line 2013'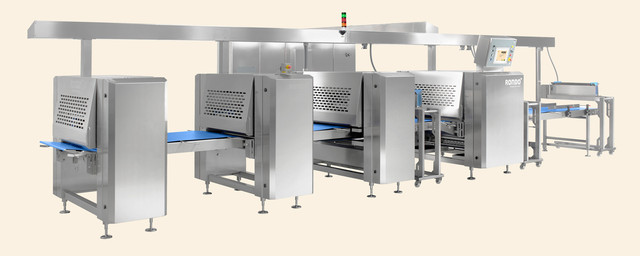 Your Price:
$

225,000.00

*

USD

Item Number:

26094

Manufacturer:
Rondo
*Price Does NOT include cost of crating, shipping, delivery or installation.
This Line Consist Of: 
1) Midos Dough Band Former
8) Conveyor Belts
3) Flour Dusters
1) Satellite Sheeting Head
1) Cross Roller
1) Spiral Cross Roller
2) Sheeters
1) Upper Flour Removal Brush
1) Motorized Cutting Knives
1) Spreading Belt
1) Guillotine For Scraps
1) Panning Conveyor
Line Last Used For Croissants
Mfg Date: 2013
Capacity: 1102 lbs - 11,023 lbs Per Hour (500 kg - 5000 kg Per Hour)
Weight Ranges: .88 oz - 159 oz (25 grams - 4500 Grams)
Max Water Content: Higher Than 80%
Stainless Steel Construction
Advantages:
· Production of pastries with high quality and long shelf life, also without preservatives, is enabled.
· Shorter cleaning and maintenance times, leading to a reduction in costs and longer production time.
· Easy access to all important components.
· No accumulation of product scraps or materials in niches or cavities.
· Computer-based cleaning programs enable maximum hygiene that is reproducible at any time.
**Stock Photo Of Equipment Used**
LIMITED WARRANTY
Bakery Equipment.com only warrants equipment shipped within the United States of America. Bakery Equipment.com guarantees that the equipment will be in working order upon installation. Installation must be performed by an authorized Bakery Equipment.com service agency.
If an item sold by BakeryEquipment.com, Inc. does not work upon delivery and cannot be fixed, BakeryEquipment.com may in this case offer an in-store credit for another piece of equipment equal to the value of the item in question.
Equipment is sold with a 30 day parts warranty. Bakery Equipment.com will only pay for parts that are deemed necessary for the proper operation of the unit. Only parts purchased from a Bakery Equipment.com authorized service agency will be honored.
All used equipment sales are final. No returns, no refunds.
Used Items may not be returned because they do not meet the buyers needs. This means that if you buy a piece of equipment to perform a task that may not be it's original purpose, we would be unable to exchange the item. We urge you to ask as many questions as you feel needed before making your purchase.
Extended 6 month warranties are available for an additional charge.
For additional information on Warranties and Returns, See Warranty/Return Policies