Oliver Model 623-N Hand Operated Bun Divider
Oliver Model 623-N Hand Operated Bun Divider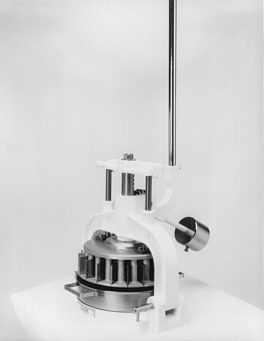 List Price:
$3,470.00
Your Price:
$

3,008.00

*

USD

You Save:
$462.00
Item Number:

4797

Manufacturer:
Oliver
Model No.:

623-N

Availability:
-Ships Within 2 Weeks
Package Of:
1 Each
*Price Does NOT include cost of crating, shipping, delivery or installation.
Oliver Bun Divider
Model 623N
For over 60 years, the baking industry has relied on Oliver products to improve the efficiency and profitability of its bakery operations.  Oliver products-- long recognized as the industry standard--are legendary for their craftsmanship and reliability.
Like all Oliver products, the Oliver Bun Dividers/Rounders are engineered to exacting standards.  They are designed to provide maximum performance in a minimal space.
Because we recognize that any machine is a substantial investment, we design value into each and every product we manufacture.
The Oliver Bun Dividers/Rounders represent the finest workmanship and performance available -- yet at a reasonable price.
Features:
Constructed of cast iron and cast aluminum.
Sanitary stainless steel pan included.
Model 623-36 divides 36 pieces up to 4 oz. (113g) each.
Model 623-16 divides 16 pieces
Divider Specifications
Dimensions:
Shipping Weight:150lbs. (68kg)
Net Weight: 135lbs. (61kg)
Height: 41" (1,041mm)
Width: 17 3/4" (451mm)
Length: 19 3/4" (502mm)
Optional: floor stand with casters.