Dutchess Model BMIH-36/18 Dough Divider
Dutchess Model BMIH-36/18 Dough Divider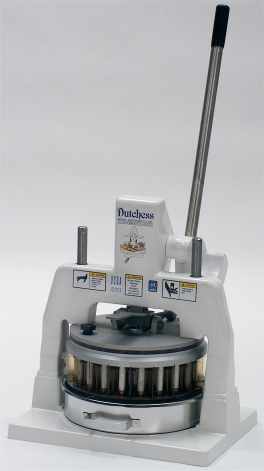 Your Price:
$

4,135.00

*

USD

Item Number:

4907

Manufacturer:
Dutchess
Model No.:

BMIH-36/18
*Price Does NOT include cost of crating, shipping, delivery or installation.
Operation of this dough divider is easy, and its performance accurate!

In addition, this entire machine can be totally cleaned in minutes, by simply removing without the use of tools, in seconds, the divider head assembly, and either washing in your dish or pan washer, or by hand.

This patented removeability feature also allows this basic unit to use either a 36-Part or 18-Part divider head assembly, providing bakers with two machines in one capabilities . . . scaling dough into either 36-pieces from 1-ounce up to 4-ounces, or 18-pieces from 2-ounces up to 9-ounces.
Now, with this one base unit, dough may be divided into pieces small enough for mini-buns, hamburger or hot dog buns, dinner rolls . . . all the way up to pieces weighing enough to produce hoagies, poor boys, subs, pita, pizza and much, much more.
Specifications 

Model BMIH-36/18 

Interchangeable/Non-Corrosive

Cuts

18 or 36 Pieces

Dividing/Scaling Range

36-part, 1 oz. to 4 oz. pieces (28 gr. to 112gr) 
18-part, 2 oz. to 9 oz. pieces (56 gr. to 252 gr.) 
(Scaling ranges may vary due to 
dough development and viscosity.)

Machine Dimensions

14"D X 18-1/2"W X 21-1/4"H

Machine Weight
(with one head)

80 Lbs. (36 kg.)

Machine Shipping Weight/Boxed
(with one head)

88 Lbs. (39.6 kg.)

Certified: Cleanability,
Material, Safety, and
Design, for listing by:

National Sanitation Foundation
United States Department of Agriculture

Unit comes equipped with one stainless steel pan.