Dutchess Model BMIH-36 Bench Dough Divider
Dutchess Model BMIH-36 Bench Dough Divider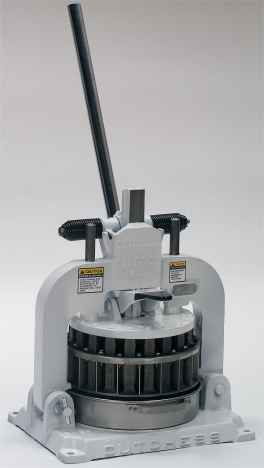 Your Price:
$

3,249.00

*

USD

Item Number:

4927

Manufacturer:
Dutchess
Model No.:

BMIH-36
*Price Does NOT include cost of crating, shipping, delivery or installation.
Operation of the

Dutchess

bench model Dough Divider is simple and its performance accurate.

Dust the stainless steel pan lightly with flour, and place the dough piece to be divided into the pan. Place the stainless steel pan into the Dutchess Dough Divider, under the dividing head, and pull the operating handle down. This flattens and distributes the dough evenly across the bottom of the pan.

Springing the trip lever will release the stainless steel knives, and the operating handle can be pulled down all the way, bringing the stainless steel knives through the dough to the bottom of the pan, thus dividing the dough into equal parts.

Raise the operating handle, and the spring action will hold the cutting head up, allowing the removal of the pan with the 36 evenly scaled pieces of dough.

Dutchess

Bench Dividers are built with precision fitted cutting heads, any part of which may be replaced in event of accidental breakage.
Specifications 

Cuts

36 Pieces

Dividing/Scaling Range

36-part, 1 oz. to 4 oz. pieces (28 gr. to 112gr) (Scaling range may vary due to dough development and/or Viscosity.)

Machine Dimensions

17" X 23" X 29" (43 cm X 58 cm X 74 cm)

Machine Weight

177 Lbs. (80.3 kg.)

Machine Shipping Weight/Boxed

189 Lbs. (85.7 kg.)

Volume Boxed for Shipping

5-1/2 cu. ft. (.16 cu. m.)

Unit comes equipped with one stainless steel pan.