AM MFG Bagel Former Series II Model BF-110
AM MFG Bagel Former Series II Model BF-110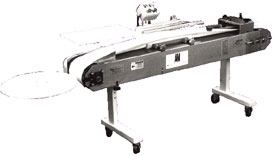 List Price:
$17,078.00
Your Price:
$

16,010.00

*

USD

You Save:
$1,068.00
Item Number:

5514

Manufacturer:
AM Mfg.
Model No.:

BF-110

Availability:
-Ships Within 3-4 Weeks
*Price Does NOT include cost of crating, shipping, delivery or installation.
AM Manufacturing Company, the leader of the Bagel Industry, is proud to introduce the BF-110 Bagel Former.  Made with pride in the U.S.A. by the company that pioneered the Bagel Industry.
MODEL BF-110 BAGEL FORMER
Includes Standard Bagel Forming Set up 3-4oz Bagel
9" Forming Belt
Standard Forming Tubes
1 7/8 Mandrel Sleeve
Rotary Table
Stationary Work Table
Optional
Bull Bagel Attachment

Mini Bagel Attachment

Breakaway Attachment

Other Options Or Custom Applications Available, Please Inquire

 
Note:
Due to the specialty nature of this machine, individual quotes are necessary to make sure you get the machine with the options and features that will work best with your product.  Please request a quote, and let our sales staff know what your needs are!  A friendly sales representative will be happy to contact you to discuss your needs and how this machine may be of benefit to you!