Blodgett BC-20G Full Size Roll-In Gas Combi Oven Steamer
Blodgett BC-20G Full Size Roll-In Gas Combi Oven Steamer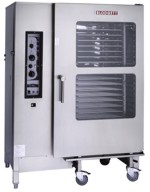 List Price:
$84,340.00
Your Price:
$

46,340.00

*

USD

You Save:
$38,000.00
Item Number:

5957

Manufacturer:
Blodgett
Model No.:

BC-20G

Availability:
-Ships Within 3-4 Weeks
*Price Does NOT include cost of crating, shipping, delivery or installation.
DELIMING DILEMMA FINALLY SOLVED!
Exclusive Deliming Indicator Light
Your Synergy oven comes standard with an indicator light that flashes when it is time to delime the unit. No more guessing. You simply initiate the deliming process at the flick of a switch, and the unit takes care of the rest. No more need to call for service.
Exclusive Semi-Automatic Deliming
The standard deliming pump mounts directly to your Synergy oven. When you initiate the deliming process, it automatically pumps in the correct amount of solution. What could be easier?
Model BC-20G Combination-Oven/Steamer
The BC-20G, is designed to utilize a roll-in cart capable of being used in conjunction with a blast chiller or warming unit. Plus, the transport cart design means continuous loading, and increased capacity, efficiency and productivity. It's maximum flexibility in a minimal footprint, so get three cooking modes in one powerful oven!
Accessories include ten (10) stainless steel wire shelves, pressure spray bottle, hose and spray assembly for interior cleaning, transport cart (14 shelf positions), steam pressure regulator, and water pressure regulators.
See spec sheet for additional details on construction, operation, options and accessories.
Standard Features:
The Synergy Series BC-20 Combi has Four (4) Great Cooking modes to provide you more cooking tools in one

Steam on Demand Mode - Adds steam at any time, (with either Convection or Combi modes) to intensify the cooking process or add crust to bread.

Convection Mode - Traditional filtered circulated air.

Steam - Pressureless steam excellent for rice, vegetables, and seafood. Plus with Vairo Steam® - where the oven compartment is temperature controlled by the steam, is excellent for poaching, seafood, and sous vide.

Combi Mode - Steam combined with hot air for faster, more moisture-laden cooking than conventional ovens, with no flavor transfer.

Constructed entirely of stainless steel

Fully welded stainless steel frame, stainless steel door and right-hand hinge

Tempered viewing window

Fully insulated cooking chamber

Deliming Indicator Light

Semi-Automatic Deliming pump

Pan capacity (14) 18 x 26 bake pans or (28) 12 x 20 x 21/2 steam table pans

Complete with TC-14 transport cart with 26 shelf positions

10 wire shelves

Vented drain assembly

Water pressure regulator

Hose and spray assembly and pressure spray bottle

Universal pan/rack supports at no extra charge