LBC Double Side Load Roll-In Oven Rack #LRR-2D-26-20
LBC Double Side Load Roll-In Oven Rack #LRR-2D-26-20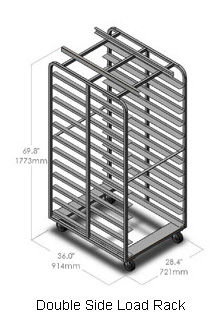 List Price:
$0.00
Your Price:
$

0.00

*

USD

You Save:
$0.00
Item Number:

9793

Manufacturer:
LBC
Model No.:

LRR-2D-26-20

Availability:
-Ships Within 2 Weeks
*Price Does NOT include cost of crating, shipping, delivery or installation.
LBC Roll-In Racks (Double Side Load all Stainless Steel)
BakerSeries® LRR   LRR-2D-26-20 3" Spacing, 40 Full Size Sheet Pan Capacity
Stainless Steel Racks for All Lang Roll-In Rack Ovens
* 18 Gauge 300 Series Stainless Steel
* 4" High Temperature Casters, Rated 600° F, 500 Lbs. Each
* Ships Knocked Down; Assembly Required
* Designed for 18" X 26" Pans, also holds 5-on Bread Strap Pans
* Single racks field convertible for use in single or double oven with a "B" Style lift.
NOTES
Recommended Spacing: Oven Racks should be sized to allow a minimum of 2" above the finished product.
* Artisan Breads, Pan Breads and 4" foodservice pans use 6" Spacing (10 Pan Capacity)
* Baguettes, Muffins, Bagels, French Breads and 2-1/2" foodservice pans use 4" Spacing. (15 Pan Capacity)
* Cookies, Sheet Cakes and all flat products use 3" Spacing.(20 Pan Capacity)