LBC Electric Single Rack Oven
LBC Electric Single Rack Oven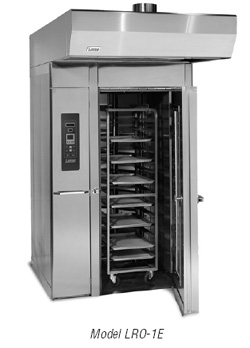 Your Price:
$

0.00

*

USD

Item Number:

9796

Manufacturer:
LBC
Model No.:

LRO-1E4

Availability:
-Ships Within 4-6 Weeks
*Price Does NOT include cost of crating, shipping, delivery or installation.
BakerSeries® Electric, Roll-In Rotating [Single] Rack Oven          Model: LRO-1E
Ships 1-Piece Standard
---
Roll-In Rotating Rack Ovens
Exclusive Vertiflow Heat Exchanger Design
No Blowers or Airflow Switches!
* Provides high quality and high volume roasting and cooking
* Single and double rack models, all stainless steel construction
* Heavy-duty lift and rotation system
* Programmable for 60 menu items, with 5 events for time, temperature,
  steam, vent and blower functions
* High volume steam generator
* Accommodates single side-load, single end-load and double roll-in racks with "B"
  style lift. (Scroll Down to View Rack Accommodations for this particular model)
  Click HERE to view LBC Oven Racks
POWER
Electric Models
Electrical

LRO-1E: 39kW
Heater Circuit: 208-240 or 480 VAC 3-Phase
Controls Circuite: 120 VAC

and

 
 
 
NOTES
Integral hood meets Type I and Type II requirements for hood construction. Consult local codes for Type I hood requirements.
---
BakerSeries® Electric, Roll-In Rotating [Single] Rack Oven          Model: LRO-1E
PAN/PRODUCTION CAPACITY GUIDE

Maximum Capacity

LRO-1E

18" X 26" Full-Sheet Pans*

20

12" X 20" X 4" Hotel Pans **

20

1 lb. Loaves of Bread

100

1-1/2 lb. Loaves of Bread

75

*3" Spacing
**6" Spacing

Accommodates one standard side load or end load rack.
CONSTRUCTION FEATURES

Heavy duty 300 Series stainless steel interior and exterior

Oversize low watt density heating elements.

Cooking compartment insulated with 5" thick high-temp insulation.

Fully integrated ventilation hood assembly, with single point exhaust connection.

Automatic heavy duty rack lift and rotation system.

Cooking chamber illuminated by externally mounted florescent lamp.

Heavy duty door with single pane 9.75" X 57.5" viewing window

Interior safety door-release mechanism.

Accommodates one standard side load or end load rack.

PERFORMANCE FEATURES

200-550°F Cooking temperature range

Oversize heating elements operate at lower temperatures for extended life.

Steam system uses large 380-lb. thermal mass, gravity feed waterfall. No nozzles or orifices to clog.

Rotating rack and even heat distribution ensure uniform baking and browning.

Self-adjusting slip clutch on rotating system protects operator and oven from damage and automatically stops rack in unloading position.

INTEGRATED HOOD FEATURES AND PERFORMANCE

Integrated hood meets NFPA 96 & Uniform Mechanical Code requirements for Type I & Type II Construction

20 gauge stainless steel body

Hood provides 4.5 square feet of effective filter area, with filter velocity of 120 FPM, .03" wc at 530 CFM

Single point 8" round vent duct, velocity: 1,520 FPM at 530 CFM

CONTROL PACKAGE

Rack lift & rotation system activates automatically, when door is closed.

Simple digital TIME & TEMP Displays

Programmable for temp., time, steam, blower delay, vent cycling steam and cycling blower.

Easy direct manual operation

STOP, START, Vent & Fan touch pads.
STANDARD PRODUCT WARRANTY
One year, parts & labor